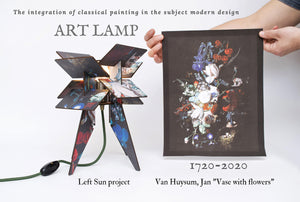 LeftSun
Art Lamp "Vase with Flowers"
Sale price Price $495.00 Regular price Unit price / per
ART LAMP is a PROJECT to integrate painting into the subject of modern design. Van Huysum, Jan "Vase with Flowers", 1720.
 ART LAMP is an attempt to combine painting and subject design.
First, the image is printed on plywood, then it is cut with a laser into parts of which the lamp is assembled. 
All parts of the lamp are assembled in random order.
An identical print on canvas is offered for the lamp in the kit.
So the lamp allows you to transfer the content of the painting from a plane to space.
This is a rather "brutal" experiment, which certainly destroys the integrity of the image, but presents its new spatial-volume version. 
Сan say first we disassemble the canvas plane into fragments from which we randomly collect a new volume.
So the work of the artist can get another life in a new volume and with a new function.
 The assembly time is 5-7 minutes.
Environment:  Indoor - Dry Location
Material: alder, plywood.

Light source: led 6W (equivalent 50W), holder E14, bulbs available for both 120V (USA) and 220V (EU/AUS) (according to the shipping address)
 IP Rating: IP20
Size: 240x240x(h)310mm/9.45x9.45x(h)12.2in

Cable: 1,5m/59in

Weight: 0,64kg / 22.57oz
Set: assembly instructions, wood parts, cable and switch, holders E14 and bulb, and print canvas.
Before packing, the lamp was assembled and tested, then disassembled and packed in cardboard for long-distance.
NOTE: the image is presented in the general use of the public domain
Project concept HERE
Social network: Facebook YouTube Instagram Tumblr
Also, check out other models in this collection