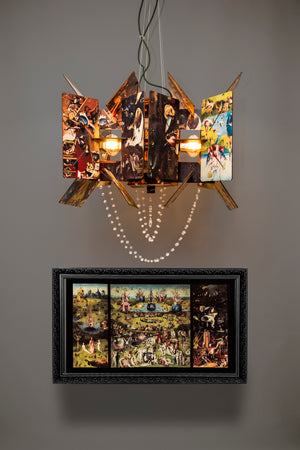 LeftSun
Pendant ART lamp"The Garden of Earthly Delights"
Sale price Price $3,250.00 Regular price Unit price / per
  ART lamp by Left Sun "The Garden of Earthly Delights", Hieronymus Bosch.
This is a unique lamp, perhaps the only one in the world, demonstrating the concept of the new volume, space, and cooperation.
ART LAMP  is a PROJECT to integrate masterpieces of world painting into
modern subject design.
This modern lamp is a product of the collaboration between painting and modern design.
First, the image is printed on plywood, then it is cut with a laser into parts of which the lamp is assembled. 
All parts of the lamp are assembled in random order.
An identical print on canvas is offered for the lamp in the kit.
So the lamp allows you to transfer the content of the painting from a plane to space.
This is a rather "brutal" experiment, which certainly destroys the integrity of the image, but presents its new spatial-volume version. 
We can say first we disassemble the canvas plane into fragments from which we randomly collect a new volume.
So the work of the artist can get another life in a new volume and with a new function.
 The ASSEMBLY time is 15 minutes.
Design: Hieronymus Bosch with Stas Sapukhin for LeftSun, 1500-2017.
Material: Plywood alder & UV Printing
Environment: Indoor - Dry Location
Mounting: Ceiling Pendant
Dimensions:  65 (long) x49x49cm / 25.5(long)x19.2x19.2 in, cable length is 1,50 m
Light source: the chandelier has 2 holders E27, 110V 220V, bulb Edison 2x5W and it fits all voltages (USA, AUSTRALIA, EUROPE).
IP Rating: IP20
Weight: 2.5kg / 5.5 lb
Set: assembly instructions, wood parts, cable and cap, holders E27, bulbs and print canvas, crystals pendant.
Before packing, the lamp was assembled and tested, then disassembled and packed in cardboard for long-distance.
NOTE: the image is presented in the general use of the public domain
Concept link: HERE
It is noteworthy that if you disassemble the lamp, then reassembling it will change its appearance. "Shuffling" the wings is unlikely to put them in their previous seats. In other words, it will be another puzzle combination. Like if you don't enter the same river twice.